There is Something to Crow About!!!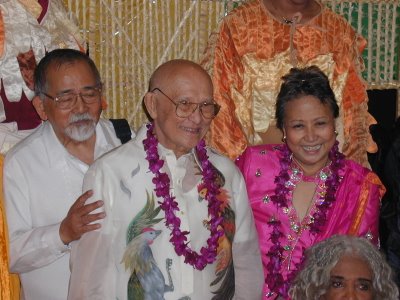 I just got back from the premiere of
Something to Crow About
with my wife. It was an interesting and exciting performace. The show ran approximately one and a half hours. There was a lot of Philippine culture crammed into the time and space.
One of the most amazing things was a blind woman dancing the tinikling.
The above is a photo of Dr. Alejandro "Anding" Roces Jr. and the director, Cecile Guidote-Alvarez. Notice the hand painted barong of Dr. Roces.
I met many Roces family members from the Iloilo side. I also met some of the Roces-Sotelo family.
There are performances until Sunday.
LaMama Theater
Box Office
74A East 4th Street, between 2nd Avenue & The Bowery
Hours: Monday - Sunday 12:00pm - 10:00pm
Annex Theater:
Th-Sat at 7:30 pm, Sun at 2:30 pm and 7:30 pm
(212) 475-7710
Purchase tickets online