Chino Roces Foundation board of trustees member, Teresita "Chit" Roces, is a third generation Roces descendant.

Born on February 7, 1940, Chit is the daughter of couple Joaquin "Titong" Roces, who is the former ambassador to Taipei during Aquino's administration, and Lita Bautista. Moreover, she is the niece of well-known, Joaquin "Chino" Roces, her father's cousin.

In 1951, she finished elementary at Maryknoll College (currently Miriam College). She graduated secondary education from St. Theresa's, Quezon City in 1955. After high school she moved to Spain and lived with the Theresianas for two years, 1955-57. While abroad, she enrolled at the University of Madrid and took a course on Cultura and Hispanica. After which she moved back to the Philippines and studied college at St. Theresa's Manila where she earned a degree in Journalism in 1961. When asked why she took up the said course, Chit replies, "well, I wasn't cut out for business…I thought it was attractive (but) not because of the family. I think whether the family was in journalism or not, it was my inclination…"


After college, she married her first husband, Dr. Ramon Sutter, a neurosurgeon at Texas Medical Center, and migrated to the States. She had four children namely: Gianna, Robert, Vittorio and Juan Ramon. At present she is with her new partner in life, Vergel Santos, who is a columnist at Business World, director of Center for Media Freedom and Responsibility, consultant of the Philippine Journalism Review and a former professor of Mass Communications at the University of the Philippines, Diliman.

On her involvement in journalism, Chit has always been a free lance writer. Back in Texas in 1971 she saw an opportunity to write for a Sunday magazine. She remembers two articles she had written. One was about the no. 1 Filipina nurse of heart transplant doctor, Michael De Becky, and the other was on a leftist patient who acquired his dream of going to Houston for a heart operation. Upon her return to the Philippines, she was offered a section at Doris Nuday's Woman's Home Companion magazine, which she had until 1986. Her work then was to interview and write about interesting women "who made fearless decisions" in life. Furthermore, she chose the subject because according to her, "I was always fascinated with women who did these things that before only men would do". Then came November 3, 1996, she and her husband, Vergel, came up with a community paper. The publication was a weekly newsletter named, Our Town, which carried the slogan, "News you could use". It catered on a subscription basis to subdivisions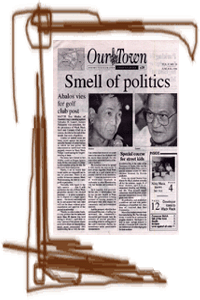 within the Ortigas Center. But unfortunately, the paper lasted for only nine months. Currently, Chit is preoccupied with the Chino Roces Foundation and her membership with the Winner (Arroceros Forest Park) Heritage Conservation Society.

In her ways, Chit obtains the legacy of journalistic involvement. And this is somehow attributed with her being a Roces. Moreover, she says that, "I'm very influenced by my family background because my grandfather was a pure Spaniard but the moment he came to the Philippines he did not look at himself as anything but Filipino". She also mentioned that, "Journalism, I think run(s) in our side of the family more than the other(s)…our side produces the writers…"

Wrapping up her interview, she owes some words of advice to young writers and journalists. She imparts that, "The secret of writing is that you'll be able to tell a story". Likewise, she emphasizes, "journalists should never accept free meal from anyone because it limits your freedom…to say what you want…if you take (anything), you give that (freedom) away…"