An Amazing Find!
As I've stated before I'm really working on the technical side of putting this thing together. But every once in a while I get tempted and I just poke around and see what comes up. It's currently hit and run looking but I'm amazed at what I've been able to find so far.
My friends all think that I'm a google-master. I've learned how to find things quickly and efficiently without a lot of effort and I get the right results over 90% of the time on the first try. I'm only as good as the tools I have, and for this project it is no different. I was looking around passenger lists and found this interesting tidbit of Lolo Rafael and Lola Enchay taking a trip across the Pacific from Manila to San Francisco in 1952 aboard the S.S. President Cleveland. They were heading to South Bend, Indiana ultimate destination Notre Dame University I'm assuming to visit Tito Ding.

click on the picture for a full size picture of the manifest page.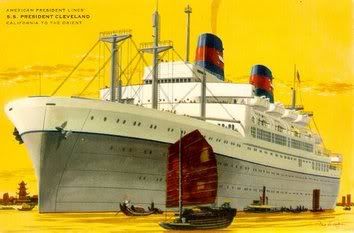 S.S. President Cleveland
I'm looking forward to doing this searching stuff, it's going to be a great challenge. First I really do need to finish up the technology and then get the biographies done.